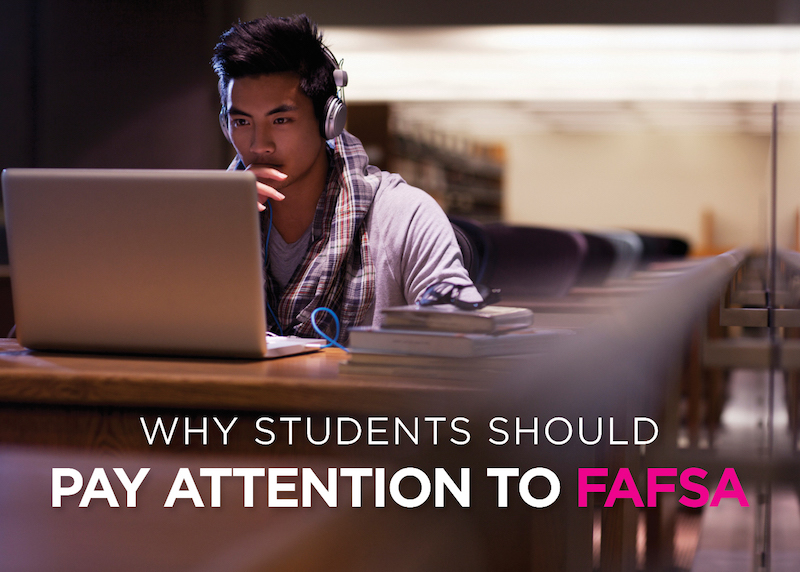 A lot of people think the college admissions stress ends with the arrival of the first acceptance letter(s), and for some, that is actually the case. However, for a large majority of college-bound students, there is still another monster to tackle: financial aid. College costs a pretty penny, and isn't something that all families in the country can comfortably afford. To counter this, thankfully, the US government came up with the Free Application for Federal Student Aid, more commonly known as the FAFSA, to provide eligible students with a little help paying for college.
The FAFSA is ultra-technical with regards to financial terms and documents. And while it's tempting to leave filling out the form entirely up to your dependable parents, who are very well-acquainted with tax returns and income statements, here are a couple of reasons why you shouldn't.
It matters after the first year of college, too! You're going to need to re-file the FAFSA for each consecutive year you're in college, which means that if you go off to grad school and/or when your parents stop paying entirely, it's all up to you to make sure you get financial help from the government, which means filling out your own FAFSA each year. Leaving it up to your parents this one time leaves you sorely underprepared to do this, so make sure you know what to do and how it's done so when the time comes, you're ready to take it on all by yourself.
It prepares you for filling out other financial documents. The technicalities of the FAFSA exist in other forms as well- like in scary-sounding "income tax returns". Learning how to do the FAFSA by yourself will help you later in life when you're ready to buy/lease a house or a car, take out a loan, or make a large investment. It's all a part of becoming financially literate, taking charge of your money, and becoming an adult.
It is your FAFSA, after all. At the end of the day, this document is for you and your future, and blindly leaving this up to your parents makes it completely their business and none of yours. You should know what's going on because not taking charge of this section of your matters signifies the start of you not taking charge of a lot of your matters. Plus, your parents are getting ready to give you your independence in all aspects of your life; allow them to give you complete independence in this aspect too by knowing how to fill the form out.
However, after all this, don't be put off by the thought that you need to fill out that big, frightening form completely on your own! Your parents will help in the process and provide you with the figures that you need to input. Just make sure that you're aware of what those figures are and what they mean, and you're good for getting help paying for the rest of your higher education. Good luck with your FAFSA, and may the monetary grant lords smile in your favor!