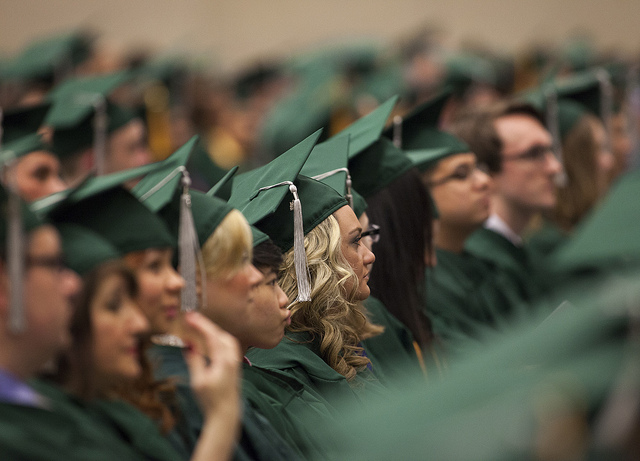 Overwhelmed by the number of colleges emailing you and sending mail encouraging you to apply to their schools? Here are a few tips to help narrow your choices step by step.
So you've been researching colleges for months, and you still feel like you have too many choices. Many schools sound great, but not every single school is right for everyone. Here are the best tips that helped us find the college for us, and keep in mind - there are no right or wrong answers when it comes to answering these questions.
1. Location, location, location. – Sometimes you want to be close to home; other times you dream about moving across the country to celebrate your independence. Both are fine feelings, so go for what feels right to you. Besides, pinning down a geographic location cuts out a huge part of the country.
2. Small or big? – College searching can sometimes feel like soul searching. Are you the type of person who likes to stand out or the kind of person who needs the push to get out there? If you're the former, look into some big schools to see if you feel comfortable. If you're the latter, try smaller schools.

3. Focus on your academic goals. – Do you have a major in mind? Learn about the schools with the best programs for that major. Some schools have a better reputation for teaching certain subjects. Try to find out what makes them special and why they might be a good fit for you. And don't be afraid to reach out to the school's department heads when you visit to find out more about their program. But remember, you don't need to decide before you get to school. Plenty of students head to college with an intended major but wind up switching once they settle in.
4. Just because you visit a school, doesn't mean you have to apply there. – It's great to see as many schools as possible. Take advantage of school trips or take the initiative yourself to travel to schools that might interest you. But sometimes people think that they have to apply to every school they visit. This is not true, and you should not apply just for the sake of applying. If you can't see yourself going there, don't apply. Not only does it draw your attention and time away from academics and other applications, applications cost money!
5. Learn about financial aid BEFORE applying. – If you will be applying for financial aid, try to learn about how it will work at the schools you are interested in. This way, if you get in, you'll understand every school a lot better.

6. Forget what people say about "the perfect fit." – There's no "one school fits all" for everyone. Otherwise, everyone on campus would be exactly the same. Realize that every school will include elements that may not be exactly to your liking, but chances are it will also offer other great things for you to experience! Stop trying to focus on finding the perfect school, and understand that there are many schools where you could learn and enjoy your time.
7. Be honest with yourself. – The college process can be overwhelming, and everyone seems to have an opinion about where you should go that they need to share. But remember, you are the one going to college and so you have the final say. Your parents, their friends, and complete strangers will offer their advice, but ultimately, focus on yourself. It may be a tough decision to make, but do what makes you happy.
8. Trust your gut instinct. – Visit a school and feel unhappy there? Visit another school and feel comfortable. Forget about the statistics and numbers that you heard on campus tours, read on websites, and researched in books - focus on how the school makes you feel. There's no point in applying to a school where you don't feel a good connection.
Find this helpful? Have any extra tips? Share with us below.