March 28th marks the day all Ivy League universities release their admission decisions. Otherwise known as Ivy Day!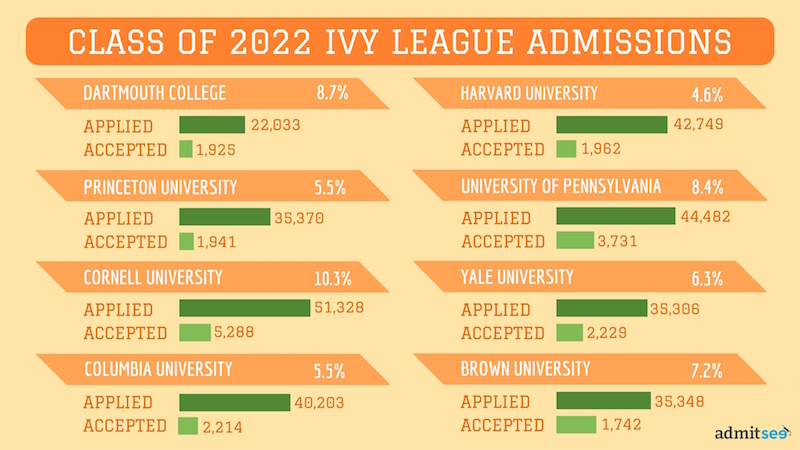 Over 50,000 applicants were waiting by their computers, hoping to receive good news from the Ivy League university they applied to. The competition for one of these coveted spots has continued to increase. All 8 Ivy League schools received a record number of college applications, far exceeding the number of applications last year.
More applications, same number of seats. It's no surprise acceptance rates have also taken a dip this year. Here is an overview of the Ivy League admission numbers for the class of 2022:
Brown University:
Accepted 1,742 out of 35,348 applications, a 7.2% acceptance rate. That's an 8% increase in the number of applications from last year, and a dip in acceptance rate from 8.3%.
Columbia University:
Accepted 2,214 out of 37,389 applications, resulting in a 5.5% acceptance rate. While the acceptance rate remained roughly the same (-0.3% difference), the number of applications increased by 7.5%.
Cornell University:
Accepted 5,288 out of 51,328 applications, an overall 10.3% acceptance rate. The lowest admission rate at Cornell thus far with a 9.1% increase in applications.
Dartmouth College:
Accepted 1,925 out of 22,033 applications, marking an 8.7% acceptance rate. Dartmouth received an additional 2,000 applications, making it the school's largest application pool in the last 5 years.
Harvard University:
Accepted 1,962 out of 42,749 applications, resulting in a 4.59% acceptance rate. Another record number of applications received for this top Ivy.
University of Pennsylvania:
Accepted 3,731 out of 44,482 applications, resulting in an 8.39% acceptance rate. Penn saw a little over 10% of an increase in applicants.
Princeton University:
Accepted 1,941 out of 35,270 applications. This makes it an overall 5.5% acceptance rate. Princeton saw the biggest percentage increase (+13.8%) in number of applicants compared with the other Ivies.
Yale University:
Accepted 2,229 out of 35,306 applications, marking a 6.31% acceptance rate. This is Yale's second graduating class entering their two recently added residential colleges.
Under these tough admissions circumstances, congratulations to the Class of 2022 admitted to these eight sought-after schools! To those still waiting on results no matter the school, we know how it is, so good luck! Check out our list of other major admission decision release dates.
Don't let your application essays and materials go to waste. Join other Class of 2022 Admits and turn your success into insights for future applicants by creating a College Admit profile. Plus, you get to earn some extra money!