Summers are huge chunks of time that many high school students do not know how to approach, or when they finally confront the issue, have already missed desired program or course deadlines. Though most find the task of planning high school summers daunting, it is most important that you are simply utilizing your time well as opposed to lounging in front of the television day and night—and "well" as in fostering self-improvement, whether through acquiring knowledge or real-world experience. Summers, indeed, should be looked upon as an opportunity to distinguish yourself from thousands of other applicants, allowing you to stand out from the crowd and grab the college admission's attention.
The key to successfully spending your summers is to demonstrate particular passion or commitment in a field that you are interested in. The goal of you, as an applicant, is to highlight what makes you unique, and your summer plans can be a sure way to differentiate yourself even further. Here are some of the ways my friends/classmates spent their summers:
A friend who was extremely interested in biology interned both sophomore and junior summers at a lab in NYC, conducting research on the neuronal source of diabetes.
Another, having been a member of Model UN throughout all of high school, decided to explore this interest further by applying for and attending an International Relations program at Yale University.
Still another, spent her time waitressing at a local restaurant in Vermont, gaining the type of work experience that appeals to universities
As for me, I often travel back and forth from China, and while on vacation, take trips to various other parts of Eastern Asia. Wanting to delve deeper into my heritage and explore other cultures as well, I spent a portion of the summer working as a teacher's assistant in an English program for high-school students, allowing me to meet similarly aged students and gain insight into their lifestyle and popular culture.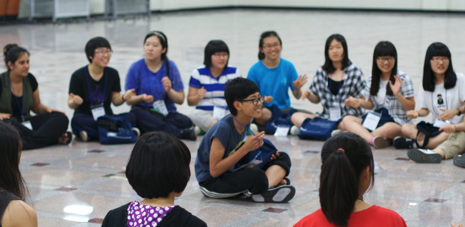 After mentoring and creating new friendships over a 3-week period, I hopped on a plane to Seoul, South Korea to begin an internship at Camp Fulbright Korea, which, like the Chinese program, also mentored native Korean students. Being able to live across the hall from my campers, seeing them red-eyed at breakfast and late at night for closing activities created an extremely intimate and strong bond between us. I breathed Korean culture morning and night, day after day, and became their friend, pupil, and teacher.
Both experiences were tremendously rewarding and enjoyable—I would not recommend committing your time to an activity you do not enjoy, as you will find that acting upon your interests will lead to the most cohesive college application. Being able to establish a direction and sense of self-identify early on is beneficial (but not completely necessary) in streamlining the image you are presenting to colleges. As I highlighted my cultural interests in essays or other sections of application, this summer experience was very aligned with how I was depicting myself. Similarly, if you follow your passions and have an idea of how you want to be viewed, you can—and should—use your summers to further emphasize and highlight these interests.
The author, Mizo, is a Freshman at UPenn, studying to get her bachelor's in business administration from Wharton. Unlock her profile to read her application essays and advice!