The AdmitSee community is all about giving back and paying it forward. That's why we teamed up with Juma Ventures to launch the #12ReasonsToGive campaign this holiday season. The joint effort generated over $6,000 that will go towards funding college for low-income students in Juma's 2016 youth program.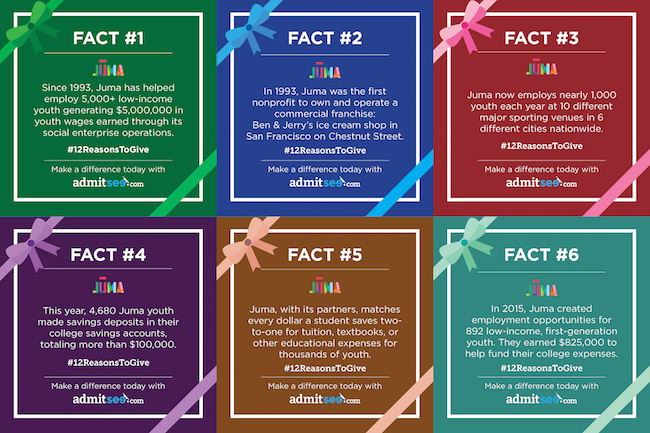 AdmitSee's mission to make higher education more accessible is a goal that is shared by Juma Ventures. Each year, Juma selects students from all over the nation to take part in their youth program. Juma partners with major sports venues (San Francisco's AT&T Park, Seattle's Safeco Field, New York's Yankee Stadium to name a few) to create job opportunities for low-income students. Juma is the first youth-run social enterprise to provide jobs, college savings, financial capability, and academic support to teens. In 2015, 96% of Juma youth graduated from high school and 91% enrolled in college.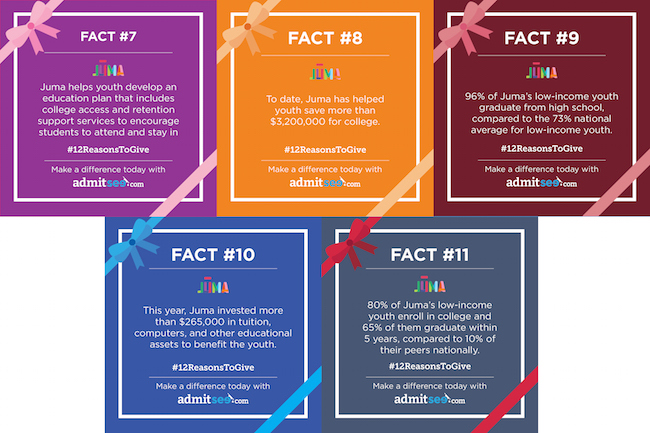 We are thrilled to support an organization that is empowering low-income youth to transcend challenging circumstances, fulfill their inherent potential, and positively impact their communities.