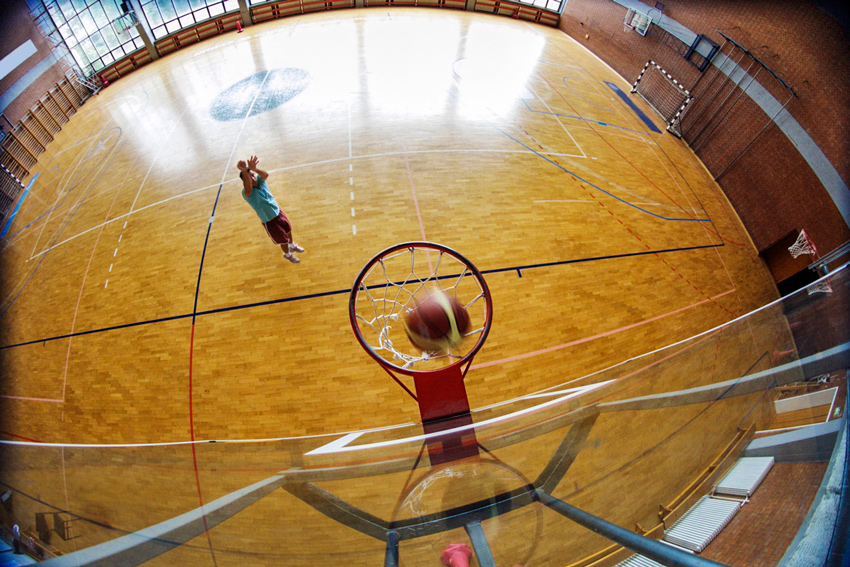 Big 10
Notable teams: No. 1 Michigan State, No. 6 Maryland, No. 11 Purdue
Big 10 Player of the Year Prediction: Melo Trimble, Maryland
Big 10 Champion Prediction: Michigan State
Michigan State has set the tone early this year and already snatched up the number one spot in the country, thanks to a few big wins against powerhouse programs Louisville and Kansas. Denzel Valentine leads the fierce Spartan offense, that ranks number one in the country in assists per game at 23. Valentine leads the team in scoring averaging almost 20 points and 8 assists per game. Shooting guard Bryn Forbes has helped Valentine in the backcourt this year, hitting 49% of shots beyond the arc. With a deep team, led by senior Valentine, it looks like the Spartans are right on track to return to make another march into the Final Four.
Maryland Terrapins will give the Spartans a tough (but fun to watch) run at the Big 10 title this year, as they have looked all but perfect, minus their single loss coming to North Carolina early this season. Led by Melo Trimble, potential Player of the Year candidate, as well as big men Robert Carter and Jake Layman, the Terps look to snatch the conference title from the big bad Spartans. Purdue has risen into the top 15 early this season, thanks to their surprisingly explosive undefeated start. The Boilermakers have been getting it done down low, as big men Issac Hayes & A.J. Hammons lead the team in scoring with 14 & 13 points per game, respectively. Only conference play will tell if Purdue is real or if their hot start is just a fluke. Indiana is looking to rebound from a shaky 6-3 start and make noise once conference play comes back around.
Pac 12
Notable Teams: No. 13 Arizona, No. 24 Oregon, No. 25 Utah
Pac 12 Champion Prediction: University of Arizona
Pac 12 Player of the Year Prediction: Gary Payton II, Oregon State University
After an Elite Eight run last year, coach Sean Miller looks to bring his Arizona Wildcats back to a conference title and beyond. Despite losing four starters, the Wildcats have gotten off to a hot start, that's included knocking off postseason contender Gonzaga in one of the toughest buildings to secure a road win in the country. Led by seniors Gabe York and Ryan Anderson, Arizona and its two seniors will have to step up if the Cats are going to be serious again this year.
Utah has started out hot, and despite losing Delon Wright, seven-foot big man Jakob Poeltl has been nothing short of dominant so far, averaging over 21 points per game in addition to 10 rebounds per game. Forward Jordan Loveridge has been a key contributor adding, almost 16 points per contest. Look for the Utes to make a run at Arizona with their dominant post play. Oregon is led this year by 6'10 junior forward Chris Boucher, a junior college transfer who NJCAA player of the year honors last season already averaging 12.6 points per game, in addition to breakout freshman Tyler Dorsey, who leads the team with 14.4 ppg. Oregon plays a very balanced style with five players all averaging at least 11 ppg, but they'll need a bit more experience if they want to make a serious run into March.
Southeastern Conference (SEC)
Notable teams: No. 5 Kentucky, No. 21 Vanderbilt, LSU, Texas A&M
SEC Player of the Year Prediction: Ben Simmons, LSU
SEC Champion Prediction: Kentucky
You can't talk March Madness without mentioning the University of Kentucky, as the Wildcats have, year-in and year-out, been one of the top ranked teams as well as national title favorites. After a big win against Duke in the early part of the season, the Wildcats were looking back to March form until unranked UCLA knocked them off 87-77, in a contest in which UCLA seemed to dominate almost all 40 minutes of. Losing seven players to the NBA is never easy (or likely, for that matter), but Kentucky but freshman guards Jamal Murray and Issaiah Briscoe have stepped up leading the team with 15.3 and 13.3 ppg, respectively. Kentucky has never had troubles with taking a team of freshmen deep into March and this year doesn't look much different, especially with a team as deep as this year's Wildcats in which 10 players average over 9.5 minutes per game.
No. 21 Vanderbilt has shown some grit up to this point in the season, as they played No. 4 Kansas close, and lost a heartbreaker to Baylor by 2. Point guard Wade Baldwin IV remains lethal from beyond the arc, shooting 55% from 3-point land while leading the team with 15 ppg. The help from Baldwin has taken pressure off All-SEC 7-footer Damian Jones who continues to remain dominant in the post. LSU will be a very fun team to watch all year as preseason All-American and potential player of the year true freshman Ben Simmons laces up for the purple and yellow. While the Tigers have been subpar this year and boast only a 4-3 record Simmons has been nothing short of spectacular. He leads the team in scoring, assists, and rebounds with 20, 15, & 6 per game respectively. Simmons remains one of if not the most exciting players to watch this year even if his team isn't, but one man can't take down an entire conference.