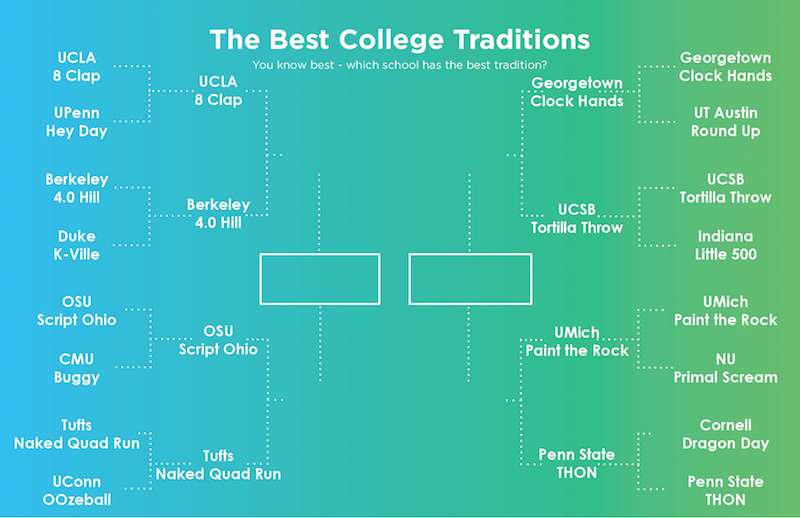 If you follow AdmitSee on Twitter or Instagram, you already know we have a few hardcore college basketball fans on our team. We rep the Duke Blue Devils, the Georgetown Hoyas, the Michigan Wolverines, and the Syracuse Orange. Oh, it gets pretty heated up in here. Now, with March Madness just around the corner, we're turning up the heat with a bracket of the 16 best college traditions. Who will win and who will fall?
Cast your votes each day from March 8th to March 13th to get your school to the playoffs! Vote by commenting on this blog post or tweeting @admitsee with the hashtag #CampusMadness.
To help you make an informed decision, here are all the college traditions:
Elite Eight:
UCLA 8 Clap: It is a tricky chant, but it is one that unites all students at UCLA. Every student, or fan of UCLA sports, will know the UCLA 8 Clap. For a quick recap, here it is, with a corgi.
UC Berkeley 4.0 Hill: It is a well known legend on campus that if you roll down this hill on campus, you'll get a 4.0 Whether or not it really works, you'll have to ask UC Berkeley students.
On to the Elite Eight of best college traditions: @UCLA's #Bruins vs @UCBerkeley's #Bears! Vote now! #CampusMadness

— AdmitSee (@AdmitSee) March 14, 2016
Ohio State Script Ohio: Ohio State has one of the best college football teams, but alongside them are Script Ohio - Ohio State's marching band. Their organization is unlike any other school's. Even if you're a rival school's fan, you're always secretly impressed.
Tufts Naked Quad Run: Hundreds of students participate every year, and they all strip down and run a circuit around the Res quad. The origins of this Tufts traditions are a bit hazy, but it's a nice way for students to de-stress right before finals. Though this tradition has been banned since 2011 due to a alcohol related concerns.
Georgetown Clock Hands: Every year, there will be Georgetown students who attempt to achieve the amazing feat of taking down the clock hands off the Healy Hall Clock Tower. It is tradition to take them down and send them to the Vatican every year, but as many can probably guess, it is extremely dangerous. With better security, it gets harder and harder every year.
UCSB Tortilla Throw: If you've been to a soccer game at UCSB, you'll know what this is. To celebrate each goal that UCSB scores, the audience throws tortilla in the air and on the field. It shows incredible team spirit and gets the crowd going.
UMich Paint the Rock: UMich has a massive Rock that students paint on to share news, events, and anything you want really!
Penn State THON: This is the largest student-run dance marathon and there is a full year of preparation that goes into it. It is a charitable event that aims to raise funds and awareness for the fight against pediatric cancer.
Eliminated:
Cornell Dragon Day: On the Friday before spring break every year, Cornell has a parade that is centered around a Dragon that is built by first-year architecture students.
Northwestern Primal Scream: If you're walking around campus at the middle of night and you suddenly hear terrifying screams, you should freak out. Hopefully, then you'll realize it's just NU students being part of the primal scream tradition right before finals. If not, make sure to call for help!
UT Austin Round Up: One of the biggest and best college parties. Many artists are invited to play, and the greek system throws many parties. It is UT Austin's version of spring fling.
Indiana Little 500: This is yet another annual race - it is a huge bicycle race that takes place every third weekend of April at the Bill Armstrong Stadium, and attracts over 25,000 fans every year.
UPenn Hey Day: Every year, UPenn juniors will gather together in their Hey Day red shirt, straw hats and canes and march through campus with the marching band to celebrate their transition to senior year.
Duke K-Ville: It doesn't matter whether or not you enjoy basketball, as a Duke student, you'll have been to a basketball game, because it's about being a Duke blue devil. For the really intense fans, there are big games that require tenting and those tents of students are often referred to as K-ville.
Carnegie Mellon Buggy: This is unique race that takes place during the spring carnival year at CMU. It is a relay race - the baton is a vehicle that student put together and are pushed by chosen runners.
UConn OOzeball: A mud volleyball tournament that takes place in April every year. It is a competitive, and dirty game that involves all different types of UConn students. It is a single-elimination tournament.