Being put on the waitlist at your top choice after waiting to hear back for over 3 months is one of the toughest notifications to deal with.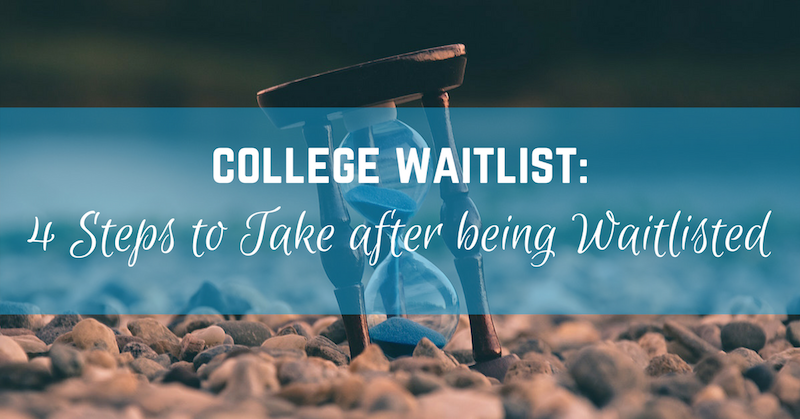 Why? Because the notification isn't final. There's more waiting after this notification during a time when you just want answers. So, what should you do at this point? Here are some pointers:
1. Should You Get On the Waitlist?
Wait until you've received all your college admissions notifications before you make your decision. Evaluate the colleges you were accepted to and the college(s) you were waitlisted at. Take into consideration academic programs, financial aid packages and anything else you prioritize in choosing a college. Would you choose the colleges that waitlisted you over the colleges that accepted you? If the answer is no, move on!
If the answer is yes, then think about how much more you'd like to go to the college(s) you were waitlisted at. Are you 100% committed if they accept you of the waitlist? Or are there other factors you'd still have to consider?
2. Make Your Second Choice
Even if you're 100% committed to the college you're waitlisted at, realistically, you should still consider which college will be your next choice. Look at the schools you've already been accepted to, and choose the one you think would be the best fit for you. Have trouble deciding? You're not the only one. Many college students have been in your shoes before and offer their experience as advice on how to choose where to enroll.
Why do you have to decide on your second choice? Unfortunately, the chances of students getting off the waitlist isn't very high. It depends on how many of the accepted students choose to enroll, and at the top tier schools, the yield percentage is relatively high. On top of that, you may not hear back until after May 1st! Put in your deposit at your next choice to secure your spot.
Keep in mind: If you do get off the waitlist, you will have to forfeit the deposit.
3. Review Your Application & Second Semester Achievements
Take a look at your application. It's been a full semester since you've submitted your application in January. Is there anything you'd change? Are there any awards, achievements, or research that would be worth mentioning? If there are any changes, think about how it relates back to the bigger picture of your future academic goals.
4. Send a Letter of Continued Interest
Let the university know that you're still interested. If there are any relevant changes from your spring semester, this is where you'd include it to provide any updates to your candidacy. It's okay if you don't have any changes. The key here is for you to demonstrate how enthusiastic you still are to attend. Let them know how determined you are, and that if you do get accepted of the waitlist, you are committed to enroll.
Hope these pointers help you make some decisions about being waitlisted. It's a tough position to be in, but it's not a bad choice to have. It's another lesson in determination.
---
Interested in seeing how other college students successfully got off the college waitlist? We've curated a package of student profiles who were accepted from waitlist:
Our premium plans offer different level of profile access to help you with your application, and give you the opportunity to speak with the college students in our database! Unlock any of our packages or search our undergraduate profile database to find specific profiles that can give you advice on being waitlisted!
Whether you got into your dream school or not, your admissions experience is valuable and we want to feature your application story. Create an AdmitSee profile to share your insights and earn extra spending money for college. With AdmitSee, it pays to pay it forward.