For rising seniors, it may seem like you need to have all the answers right now about where to go to college, what to study, perhaps even what you want to do in life. But here's an alternative: take a gap year and discover the answers at your own pace. Just like Nishchala did.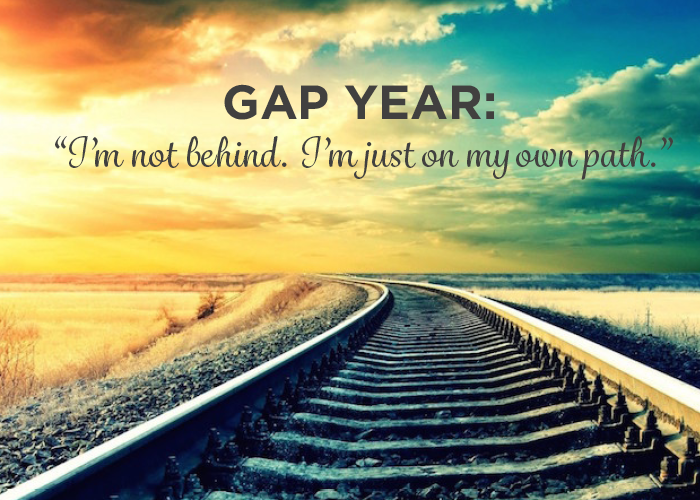 When I finished 12th grade, I had no idea what I wanted to do. The year seemed to have spun into such a blur of fast forward motion—with relentless examinations, endless stress, unnerving conversations with adults on my future—that by the time it was time to apply for college, I felt lost. I didn't feel mature or skilled enough to leave home and jump into the even more tiresome rat race of college. I remember struggling to write my Common App essay in October, because I felt like I was missing something.
Around December 2013, about a month before college applications were due, my dad— knowing how lost I felt—suggested that I take a gap year: a year off before starting college— no school; no classes; just a year to take a break and do whatever I wanted. Initially I was completely opposed to the idea. Why would I waste a year of my life? To top it off, I didn't personally know anyone who had ever taken a gap year—what would people think of it? What would colleges think of it? It seemed like an outrageous thing to do. But finally my dad convinced me to read up on it before jumping to a decision.
Researching online about taking agap year shifted my thinking. Although a gap year didn't seem that popular, there were quite a few people who had done it, and resulted with inspiring accomplishments. In fact— and to my surprise—I found that many colleges in the US encourage students to defer their admissions and take a year off before starting college. Big name universities like Harvard and MIT actually write, in their admission letters itself, that students should seriously consider taking a year off (you can read more about what Harvard has to say about gap years here). After reading as many articles I could get my hands on, I felt inspired to take a year off before going to college.
The decision was definitely not easy.The majority of the reactions that I got from my relatives and friends was coated with absolute disapproval. And the constant Facebook updates of my friends celebrating their newly found college lives only made it worse— I felt like I was left behind. There were so many times when I questioned whether or not I had made the right choice, but by the end of the year, I knew I wasn't left behind. I was just on my own path.
In the larger scheme of things, a year here or there doesn't really matter. Of course though, taking a gap year has its risks. If you don't use it well you might fall into a year long pattern of laziness which can be difficult to get out of. But if you do use it well, the effects can be rewarding! Since college applications are right around the corner, it is the perfect time for students to think about taking a year off. To help with this thinking, I've written about my year as an example. Although—please keep in mind—there is no such thing as a "typical" gap year since you can do pretty much anything; the sky is the limit! Below are brief write ups about the activities that I did during my gap year, and my overall experiences:
Fellowship with Make A Difference
In 11th and 12th grade, I used to volunteer as a teacher with the NGO Make A Difference (MAD). I taught English to a class of 10 underprivileged children at the SOS center in Pune. So during my gap year, I decided to take this a step further and applied to lead the education program— called 'Ed Support'— for MAD in my city. My responsibilities as an Ed Support fellow entailed recruiting a team of 60 volunteer teachers and 8 volunteer interns. Our team worked over the academic year (2014-2015) to teach English, Math and Science to approximately 120+ underprivileged children in shelter homes in Pune.
My fellowship journey has undoubtedly been one of the most brilliant and meaningful experiences I've been a part of. I had never before led a team at that scale, and I had never before felt like I was making such a positive impact on society. The sheer amount of work that was required to establish the base for MAD Pune was overwhelming; we had about 850+ applications in 2014. I dedicated my every day to working on the Ed Support program: conducting teacher trainings, interviewing applicants, reviewing classes etc. The journey was challenging, even frustrating at times. No matter how hard we tried, the problems that these children face in poverty are unfortunately too deep and complex for a bunch of 20-year-old volunteers to solve. The experience taught us compassion, optimism and resilience, and how to take challenges one day at a time. I learned how to connect with people, motivate a team, skillfully resolve disputes, and to innovate. Skills that I'm sure will help me in the future as I continue to learn and develop, and hopefully, come back as a stronger leader to introduce infrastructure to solve the issues I saw first hand during my gap year.
Part Time Job at Expression & Freedom Speech and Drama Academy
In addition to my work with MAD, I also had a part time job with E&F Academy. I worked as a teacher assistant, and mentored several classes of students ranging from ages 8 to 13 who were learning poetry and drama. I wrote the annual script for the drama class, helped design the annual poetry, speech and drama curriculum, created weekly lesson plans for classes, and designed the annual poetry book. The classes provided a spectacular platform for me to channel and share my passion for drama and poetry. I learned the art of how to make teaching more creative and interesting by incorporating the magic of theater and poems. Mentoring the classes also helped me lose my inhibitions and transformed me into a more confident, creative and self-aware person.
Having a paying part time job heightened my sense of responsibility, organization and accountability. It was an invaluable experience to include in my college applications, but the true take away is the maturity I developed from working, being professional and being financially responsible.
Shadowing PhD Students Majoring in the Field of Biological Sciences
I went to Chandigarh to shadow PhD students who doing Biology research. Why? Well, during my brief application process in senior year, I had considered applying to study biological sciences. I only realized while I taking my gap year that I didn't know exactly what that would entail, nor did I know which field of biological science I wanted to pursue. I wanted to get a first hand experience of what exactly researching in the field of biological science meant. What would I do on a daily basis? Would I have to work alone or with people? What kind of lifestyle would I lead? What kind of jobs could I get with a biology major, and how would they look like on a day to day basis?
To attempt to answer these questions, I went to IISER and Punjab University where I met with students pursuing Masters and PhDs in different fields of science. I got a chance to shadow, interact and ask them questions about their research experience and overall experience with their careers. The exposure was eye opening; research in the field of biology was extremely different from what I had in mind— it was nothing like what I imagined I would be doing when I studied biology in high school. I quickly realized that research was not an area that matched my personality, and perhaps it was time for me to think of a different field, or perhaps a different major entirely.
Looking Back
The year of down-time I got, away from the conventional lifestyle of school and classes and college applications, gave me perspective. Having that extra time to heavily focus on helping the underprivileged— a cause that I now know I want to continue working for in my career— and getting that extra time to teach my hobbies to my students at E&F— as well as learn from them— would not have been possible without the gap year I took. I felt like I had accomplished something real and meaningful for the first time in my life.
By the end of the year I felt rejuvenated, bold, and better equipped to handle whatever was to come next. I was ready to jump back into the rat race of fluctuating GPAs, examinations, deadlines, projects, college major selection, identity crises and everything in between. Even more, the time off made me feel more connected with myself: I made the every choice with intention, engaged in activities with passion and curiosity. My journey sculpted me and taught me skills and lessons that no school textbook could ever teach.
I remember hearing a quote from a play that went something like this: "It's important to know what you want to be when you grow up, but it's far more important to know who you want to be." In our monotonous routines of school, examinations and classes, we often forget about personal growth. My year off implored me to reflect on what kind of person I was, what I wanted to do, and where I wanted to go. And now that I'm done with my first year of studying in New York University, I feel a transformation within me, and I can confidently say that I made the right investment in myself by taking that year off.
So whether you ultimately decide to take a gap year or not, I urge you to— at the very least— consider the value it may add to you. The possibilities of all that you can do with your year might mark the beginning of a truly exciting journey.
You can decide to take a gap year before applying, or you choose to defer a year after getting accepted! Whatever you choose to do, make sure to search through profiles of accepted students to see their essays, stats, and advice to make an informed decision. Don't forget, we also have profiles of students who took a gap year, including Nishchala's admit profile!