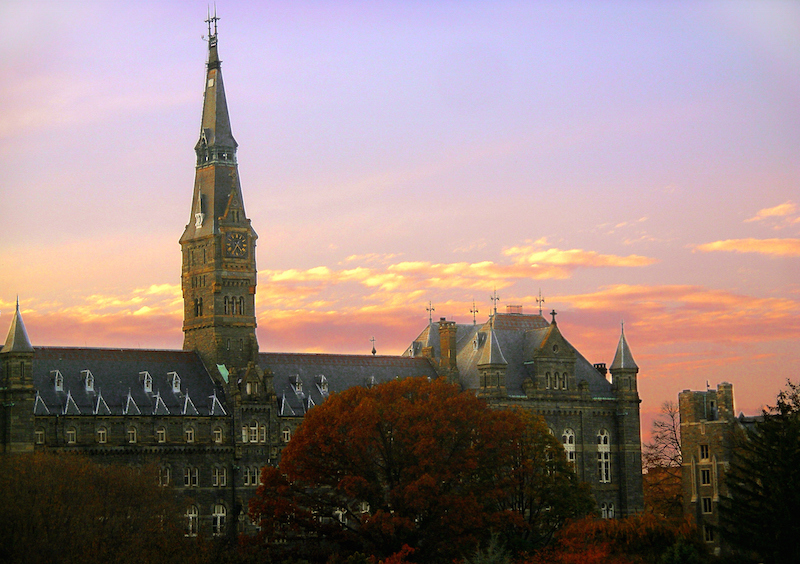 A week of campus visits and info sessions can be both exciting and stressful, especially when you know so little about the schools you're visiting. To take the stress out of your college tour, we have an insider's guide to visiting Georgetown University in 36 hours.
Lunch
Once you are in Georgetown, you will quickly realize what a nice neighborhood it is. This is often referred to as the "Georgetown Bubble", because it has everything every student needs, so why leave? M street gives you so many restaurant options it can be hard to choose from. The number one go-to restaurant for Georgetown residents, students and alums is The Tombs. It is the quintessential Georgetown experience. It is right on the edge of campus and there's no way you will miss it. Not only is the food there amazing (especially the Crab and Artichoke Dip), but you'll also get a glimpse of what the student body at Georgetown is like.
If you don't want to eat on campus, venture down to M street and grab a seat by the window at Pizzeria Paradiso. You can't go wrong with any of the pizzas your order, and it's a Hoya favorite!
Tour
If you're visiting during the summer or fall, the perfect time to go on a campus tour is either before lunch or right before dinner, so it won't be too hot. The guide will give you a thorough tour of the Georgetown University Campus and let you in on all of Georgetown's quirks. You'll learn what a Hoya really is, why their colors are Blue & Gray, and what all the acronyms - GERMS, GUTS, CAPS, SNAPS - stand for. And if you are especially lucky, you will get to see Jack the Bulldog taking a walk around on campus.
Dinner
At this point, you should know there are dozens of restaurants to choose from around campus. As college students, you're always on a budget and can't always afford the fancy restaurants by Georgetown. If you're visiting with your parents, take advantage! Filomena, located on Wisconsin and M Street NW, is a very traditional Italian restaurant. They have the best pasta to offer and come in really large portions.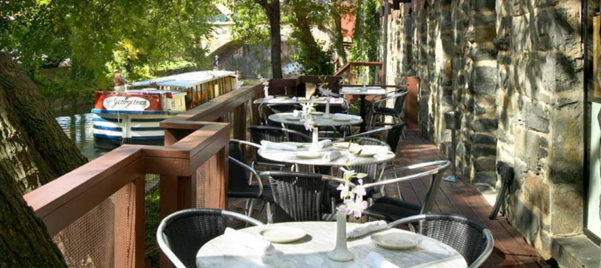 Another choice near campus is Sea Catch Restaurant and Raw Bar, Georgetown's best seafood restaurant. It is tucked away on 31st Street NW off of M Street, overlooking the C&O Canal. If you can, definitely sit outside and enjoy the view!
Finally, if you want to see what the rest of DC has to offer, Zaytinya is a modern Mediterranean tapas restaurant located by Chinatown is the place to go to. It is a great place to share a lot of different dishes and an excuse to checkout downtown DC.
Dessert & Attractions
If you know anything about Georgetown, it'll probably be Georgetown Cupcakes. It is located on 33rd and Prospect Street NW and the line is always goes around the block. If you are willing to wait, go for it! If you don't but you're dying to try it, order a day ahead for pick up – you can cut the line and grab your cupcakes in seconds!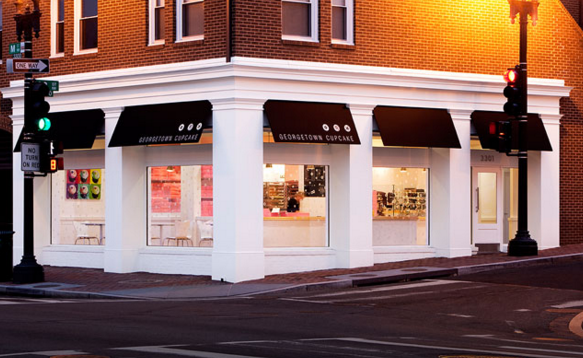 But, keep in mind Georgetown has another secret dessert place: Baked & Wired. It offers a selection of cupcakes, ice cream sandwiches, biscuits, cookies and more. It is on Thomas Jefferson Street NW and since only Georgetown students know about it, the line is never too long.
It should be no shock to you that Washington DC has a lot of museums and landmarks you should visit. If it's your first time in DC, the National Mall is worth the visit, and it's really not that far from campus! At the end of your day, walk down to the waterfront by K Street NW and along the Potomac River. It has a beautiful view – you will walk by the Watergate Complex, the Kennedy Centre, and you will reach the Lincoln Memorial in 20 minutes.
Where to Stay
The Georgetown Inn is conveniently located on Wisconsin Avenue between O and N Street NW. If you want to stay at a more luxurious hotel, I would recommend the Capella. It overlooks the C&O Canal, has a fantastic restaurant and also gives you access to their rooftop bar.
Brunch
If you want to go to a sit down brunch, Kafe Leopolds and Café Bonaparte are both excellent options. There will most certainly be a line, so go early, or bring a book and be prepared to wait! If you want to just grab a sandwich, Wisemillers and Booeymongers are Hoya favorites. They are nearby and affordable.
Nearby Universities
If you're already in DC, you can also visit George Washington University and American University. GWU is about 10-15 blocks from Georgetown – it is a completely different vibe from Georgetown. It is a city school and doesn't have the traditional campus that Georgetown offers. It is a good way to help you compare and find out what is more suitable for you. American University is in Tenleytown, which is about a 15 minute drive from Georgetown. It will also give you a sense of what a more suburban school is like. By visiting all three schools, you'll be able to compare and find out what kind of location you're looking for in a university, whether proximity to the city is important to you, and if class size matters.

If you're looking to apply to Georgetown, see profiles to read essays, stats, and advice from students who go in! Chat with a mentor to get help with your application and find out how you can get into your dream school.