How low can acceptance rate go? For the first time, Harvard University's overall acceptance rate fell below 5%.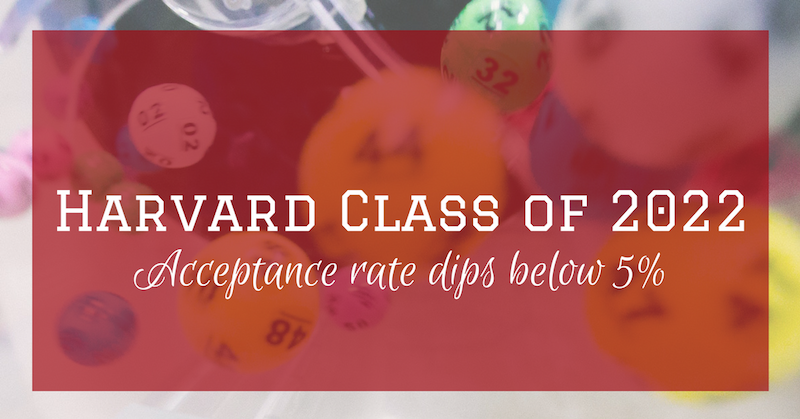 As of March 28th, 2018, a total of 1,962 students of 42,749 applicants were offered admissions to be part of the Harvard Class of 2022. This brings the overall accpetance rate down to 4.59%, the lowest acceptance rate Harvard has ever had.
This comes after a record-high percentage yield from the Class of 2021—84% of the accepted students from last year matriculated, resulting in an unexpectedly large class size and the need for overflow housing to accommodate for all freshmen.
Let's breakdown the admission statistics. Late last year, Harvard accepted 964 early action applicants and deferred 4,882 for reconsideration during regular decision. Harvard's early action acceptance rate stayed constant at 14.5% compared to last year.
The deferred students from the early action are joined by 36,118 regular decision applicants hoping to be accepted to Harvard University. Including the deferred applicants, 998 students were offered admission on Ivy Day, March 28th, 2018, bringing the regular decision acceptance rate down to 2.43%.
The university did not share the number of students who were waitlisted, but William R. Fitzsimmons, Dean of Admissions and Financial Aid, has indicated that they had planned to accept fewer students in hopes of allowing students off the waitlist. Due to last year's high yield percentage, no one was accepted off the waitlist. The university is expecting a class size of 1,665 students for the Class of 2022.
With the Harvard Financial Aid Initiative, the university has provided financial help to low-income students, and will continue to do so moving forward. The ethnic and socioeconomic diversity of Harvard's class has increased this year as well. Here is a breakdown of the accepted students at Harvard over the last 5 years: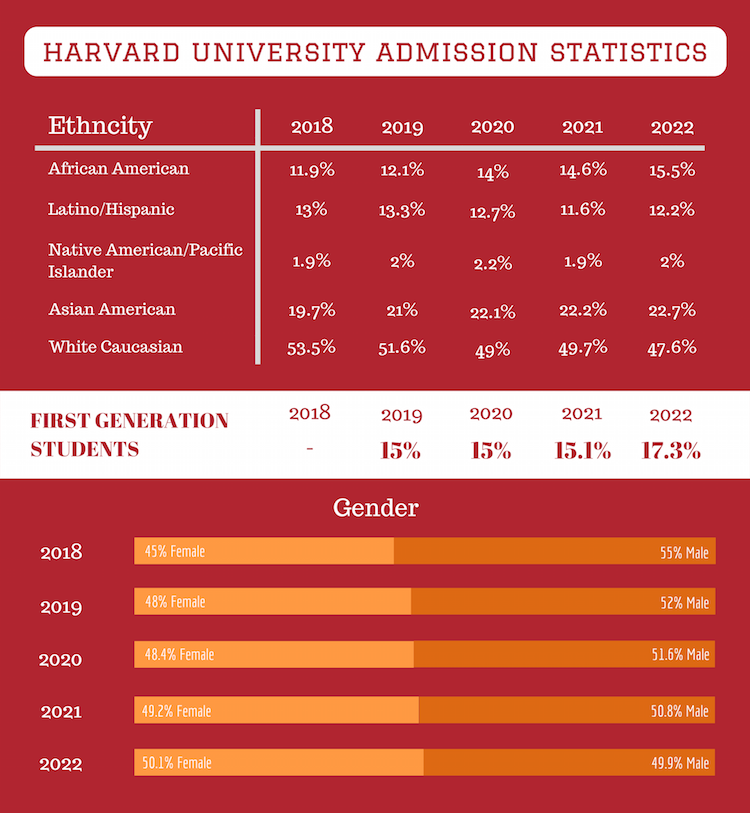 Without financial aid, the cost of going to Harvard is $67,580 for the 2018-2019 academic year, a 3% increase from the year before. Accepted students are invited to visit the campus on the weekend of April 23rd to meet current students, accepted peers and learn more about the university.
Congratulations to the Harvard Class of 2022!
Whether you got into your dream school or not, your admissions experience is valuable and we want to feature your application story. Join other Harvard Admits and turn your success into insights for future applicants by creating a College Admit profile. Plus, you get to earn some extra money!
Sources: The Crimson