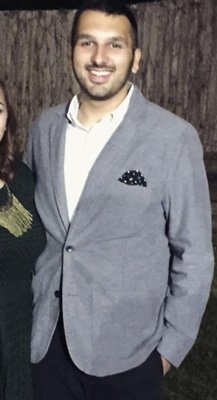 We're back with another Q&A, this time with Dorm It Up Cofounder Sagar Hemani. Everything from the catchy company name to his favorite podcasts, Sagar gives us the low down on everything important.
Where did you go to high school? College?
I went to Unionville High School in Ontario, Canada and attended college at the University of Missouri.
How long ago did you found Dorm It Up? How big is the company?
Dorm It Up was formed in late 2012. In the last few years, Dorm It Up has built a presence on over 700 campuses!
Can you recount the exact moment you came up with the idea for your startup?
Even though the idea was born from a combination of bad experiences shopping for both my cousin and I, the actual moment came in late 2010 during my winter break in Toronto. I was sitting with my parents and a cousin who came to visit. We were just talking about school, classes, friends, homework, and our dorms. The idea came from my mom who was explaining to my cousin how we ended up going store to store and just buying everything on the spot. She then just blurted out "I wish there was just one package with everything together" The idea grew ever since.
Also, funny story: The name Dorm It Up actually came when we were watching Community. Britta walks into a room while Abed and Jeff and are just lounging around and eating cereal and she says "Wow, you guys are really dormin it up in here, huh?"
What's your favorite piece of feedback you get from users?
"Get more stuff!" We provide packages with most items students would ever need, but there are always people who want more. This year we are adding many more products, colors and styles to cater to the four-year college student!
What was the worst job you ever had and what did you learn from it?
I've had many bad jobs. As a junior in High School, I had a job at a grocery store pushing shopping carts. In college, I worked part time at the student center restaurant doing everything from flipping burgers to washing dishes. Although at the time these jobs seemed awful and tedious, looking back now, I realized it taught me the value of hard work. Being an entrepreneur is no easy task and requires you to wear many hats and do whatever is needed, whether that's personally packing boxes or answering customer calls.
How many times do you hit snooze in the morning?
It used to be at least 7. But now I just make all the alarms the same sound as my phone calls, and I'm up pretty quick ☺
Any blogs / podcasts you recommend?
I've just recently got into podcasts, but there are so many good ones. One of my favorites is StartUp. It follows Alex Blumberg (a former producer), who is pretty much narrating his life as he is building his own podcasting startup. You get to experience the growth, successes and failures of the company from the very beginning. Also Serial, but I am not much of a fan of Season 2.
What's the last thing you splurged on?
I am not much of a shopper, but the last big gift I got myself was a ZIIIRO Celeste watch.
I have recently switched it with my Fitbit, but I still wear it often!
Choose 3 people to have dinner with (dead or alive).
-Mark Cuban
-Kanye West
-Elon Musk
-It would be very interesting to talk to people who are the best in their relative fields and come from very different backgrounds. And I could only imagine what idea Kanye would try to get the other two to invest in.
What smartphone app would you have a hard time giving up?
Venmo. I could only imagine how tedious it would be to write checks, get cash, or wire transfer someone $20 for dinner.
What's one activity / habit you wish you had time to pick up?
I've always wanted to take flying lessons. Since I was a kid, I was always intrigued by it but don't think I could ever do it as a profession. As soon as I can even get a week off, I will definitely sign up for my pilot lesson!
Help destress your application process by checking out accepted application files from students who have already gotten in. Read essays, find stats, and see advice answers on various parts of college life to find out where to apply and how to get in. We've helped thousands of students get into their dream schools already, and we're excited to continue to help more.