As the early excitement of getting into college settles down, you're faced with important decisions.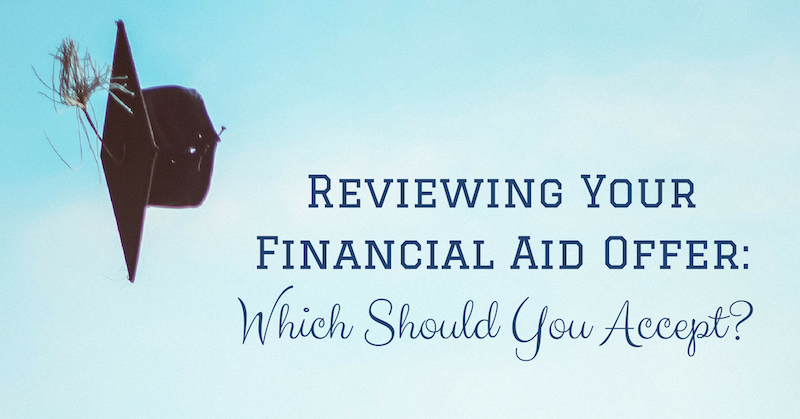 Along with your acceptances, hopefully, you were also awarded aid offers. Aid offers can come in a lot of shapes and sizes, and it's time you learned what all the different terms are! Afterall, you're about to leave home for the first time and go to college.
Which Financial Aid is the Best to Accept?
Obviously, the ones you don't have to pay back. Scholarships and grants are considered "free money" since they do not need to be repaid, so accept those first. Then, you have work-study funds which will give you to chance to work to help pay for your college tuition. Finally, there are student loans, both federal and private, which you'll have to pay back.
Here are all the different types of financial aid you may be offered and the order in which you should accept them:
Types of Financial Aid
1. Scholarships & Grants
Scholarships are a monetary reward given to students based on academic or other types of individual achievement to help pay for education expenses. For example, universities offer merit-based scholarships (some are full ride!) to students who demonstrate academic excellence. Similarly, there are a lot of small private scholarships students can apply for that do not need to be repaid.
Grants are basically the same as a scholarship but are often financial aid based on need. They also do not need to be repaid.
Scholarships and grants come with conditions that have to be met in order for you to continue receiving a scholarship or to prevent your grant to turn into a loan. Make sure you read the conditions closely and understand what the conditions are. The conditions usually require students to maintain a certain GPA.
2. Work-Study
Work-Study is exactly as it sounds. It is a federal student aid program that provides students part-time jobs while you are enrolled in school to help fund your college tuition and expenses. While you don't have to pay the money back, you are working for it. The work-study opportunities are often on-campus, and you'll most likely be working for the university. There are other off-campus work-study jobs with nonprofit organizations and sometimes even private for-profit employers.
You'll be paid by the hour and the payments will be paid directly to you, unless otherwise stated by your school. Unfortunately, you can't work as many hours as you want. You'll be limited by the work-study award you were offered. The work-hours you receive will be decided by your school's financial aid office, and they will consider your class schedule and academics.
3. Subsidized Federal Student Loans
Subsidized federal student loans are borrowed money that you'll have to repay with interest. The interest on subsidized loans do not start accruing until you graduate. You'll typically have a 6-month grace period before you have to start paying off your student loans. This time is often for you to find a job and begin earning an income before your bills kick in.
The interest rate on subsidized federal student loans are currently at 4.45%.
4. Unsubsidized Federal Student Loans
Unsubsidized federal student loans are similar to subsidized the ones, except your interest is no subsidized, which means they will start accruing from the date it was disbursed. Otherwise, unsubsidized federal student loans do not have to be repaid until after you have graduated. Having said that, you can start paying your student loans early! In fact, many students help manage student loans by paying off the monthly interest in college.
The interest rate on unsubsidized federal student loans are currently at 4.45%
5. Private Loans from State Government or College
Federal student loans are funded by the federal government. Private student loans are where you borrow money from a bank, credit union, state agency or a school. These students loans will have to be repaid with interest. Student loans from your state government or college is unlikely to have better terms than federal student loans. Look at the fine print before you borrow. Make sure you know who you are borrowing from, what the interest rate is, and when you have to start repayment.
6. Private Loans from Banks or Credit Unions
Private student loans from banks or credit unions fall at the bottom of your financial offer because the interest rate are often the highest and the terms are not going to be as good as federal student loans or loans from your college. They have variable interest rate and can often be greater than 18%. This can really increase how much you repay substantially.
Financial Aid Tips
Your financial aid package may be a combination of federal and nonfederal financial aid that your college combines to help meet your needs. If you have any questions about any of financial aid offered, call and ask your college's financial aid office. Always ask questions, know who you are borrowing from, and what the repayment terms are.
It is completely reasonable for you to negotiate your financial aid package. You do not need to accept all the loan money that your school offers. The most important tip of all is to borrow what you need. Calculate how much you will need to cover tuition, room & board, books, labs and any other college expenses.
The financial aid packages are likely going to be a key factor in your enrollment decision process, so know what you are comparing! Think about what your student life will be like with a work-study job, especially if you might pick up another part-time job! Consider how you'll pay off your student loans during college. You want to make sure you are able to have some fun at college in between classes and your jobs. Need help with your decision? See how other college students made their enrollment decision.
Congratulations to the Class of 2022! Whether or not you got into your top choice, your admissions experience is valuable and we want to feature your application story. We can't wait to see more of you join us and turn your success into insights for future applicants by creating a College Admit profile. Plus, you get to earn some extra money!