College has long been linked to standardized testing, especially since they are intended to assess a student's readiness for college.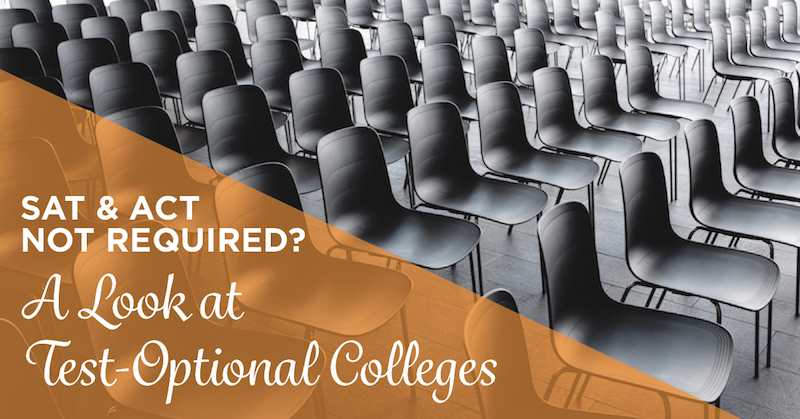 What is a Test-Optional College?
When a college or university is test-optional, it means that standardized testing is not required as part of their application process. Students do not have to take or submit an ACT or SAT score to be considered for admission.
The college application narrative, and the nature of the two tests, have made standardized testing seem like an integral part of college admissions. In reality, there are over 1,000 colleges and universities in the United States that are test-optional or are test-flexible. While test-optional college doesn't require the ACT or SAT, test-flexible colleges typically don't evaluate them heavily in the application process, or are not required if other conditions are met.
In just 3 years, the number of test-optional colleges and universities have increased from 850 to over 1,000 schools. And this trend seems to be carrying on into the more selective schools in the U.S. as well. Just this summer, University of Chicago has announced that they will no longer require the SAT/ACT requirement for undergraduate admissions. Many elite liberal arts colleges like Bowdoin College, Emerson College, Smith College, have already dropped the ACT/SAT requirement. Other private research universities like Wesleyan University, American University and George Washington University also have similar policies.
Each university has its own test-optional and test-flexible policies. Please be sure to do your own research and find out what policy is at the schools you're interested in.
What do Colleges look at in an Application?
If colleges and universities are no longer requiring the SAT or ACT, how will they evaluate a candidate's application? The National Association for College Admission Counseling (NACAC) recently released its annual State of College Admissions report for 2017, revealing that, the most important factors in admission decisions lies in the high school curriculum and grades earned. Standardized test scores follows after, along with the more qualitative factors like the application essay and recommendations.
In other words, the holistic evaluation of your application won't be heavily affected. The focus is still on how you've performed over the years in high school, how challenged you were, and how you performed against those challenges.
International Applicants: Test-Optional Doesn't Apply to You
Unfortunately, many test-optional and test-flexible policies do not apply to international applicants. In most cases, the policies are only for applicants from the U.S., and international applicants will still be required to submit their SAT/ACT score. On top of that, many international students will also need to take the TOEFL or IELTS to test English proficiency.
How Does this affect My Applications?
It shouldn't! Your college search focus should still be on finding a college or university that matches your needs the best. Which college could offer you the resources and research in a specific academic field? Which university will let you be a student athlete? Which school will provide you with the right financial aid? These questions should be your focus. You shouldn't just apply to a school just because you don't want to take the ACT or the SAT.
If the school you do end up applying to are test-optional or test-flexible, then be aware that these schools are trying to help level the playing field. You can demonstrate your academic intellect through your high school curriculum and grades rather than on a test score that's now often argued to be more advantageous to students from wealthier backgrounds.
---
Have more questions about test-option or test-flexible colleges and universities? Drop a line in the comment section and we'll get back to you! Or, check out this blog post on everything you need to know about standardized testing.
Need profile access? Our premium plans offer different levels of profile access and data insights that can help you with your application process. Unlock any of our packages or search our undergraduate profile database to find specific profiles that can help you make an informed choice about where to apply!