Thinking about applying or enrolling at Georgetown University? See what current Georgetown Hoyas have to say about going to school on the Hilltop.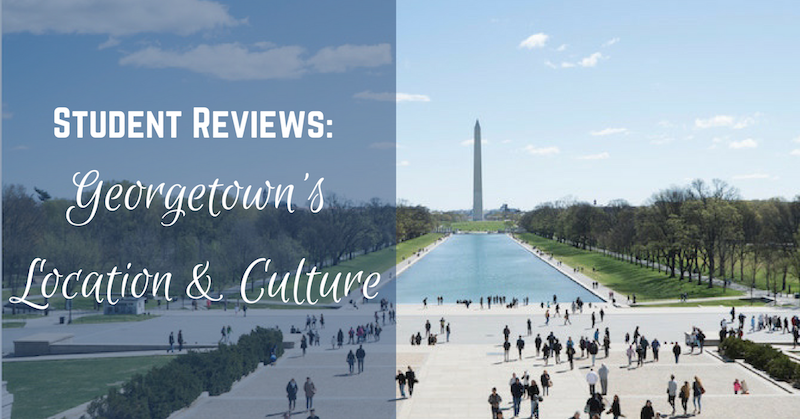 Located in Washington D.C., Georgetown University offers one of the best cities for students to go to college in. At first glance, you immediately see the attractions and internship opportunities DC can offer young college students, as well as all the cultural festivities and entertainment that students won't want to miss out on.
Georgetown's campus also gives it a sub-urban feel. With a beautiful campus in the Georgetown neighborhood, students can find everything they want within a 5 block radius: restaurants, coffee shops, shopping and bars.
Take it from these 5 Georgetown Hoyas. How does it feel now to actually be on campus? What do they like about about Georgetown's location and culture?
1. DC & the Jesuit Culture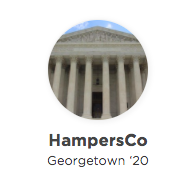 Student advice from HampersCo
Georgetown University Class of 2020
"DC is a beautiful city, and really it is where all the gears of the country are turning. Tons of monuments and restaurants compared to another major consideration of mine, Dartmouth (which waitlisted me), which is very rural. Also, as mentioned earlier, the Jesuit culture is very welcoming!"
Unlock his full Georgetown application to see his full application story!
2. The City, The Campus & The Community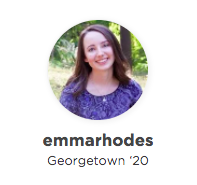 Student advice from emmarhodes
Georgetown University Class of 2020
"Georgetown's location is almost perfect. It's in DC, which has so many things to do and a bunch of unique internship opportunities (especially for people into politics). Even though there is access to a city, I like that Georgetown has its own campus that isn't in the middle of downtown, because you still get the traditional college campus feel. The surrounding neighborhood of Georgetown is also really nice and cute with a lot of nice townhouses, shopping, etc. The one thing I would change is there is no metro stop in the neighborhood so it takes longer than it should to get into DC! (There is a shuttle though). What I like about the culture of Georgetown is that everyone is really involved on campus, especially in community service activities, there's no Greek life so it is more inclusive (except it is really hard to get into some clubs), and there are so many different religious and political views on campus that I felt that it would push me out of my comfort zone."
Unlock her full Georgetown application profile to see her application journey!
3. What's Not to Love?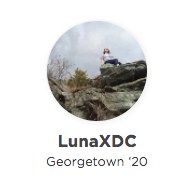 Student advice from LunaXDC
Georgetown University Class of 2020
"Oh lord I could go on forever. I like that Georgetown isn't cliquey or super elitist, I like that most of the students are involved in service, and I LOVE that instead of Greek life, clubs are the social scene. Plus, what is there not to love about DC?!?! If you want to see Georgetown like I see it, go visit—but visiting can always be tricky. Your perception of any school can and will be altered by irrelevant things like the weather, how you're feeling that day, and your tour guide. If you really like a school by what you've discovered online or via an admissions officer visit to your high school, but the tour doesn't go well, consider applying anyways."
Check out her successful Georgetown profile to see her full application journey!
4. Sense of Community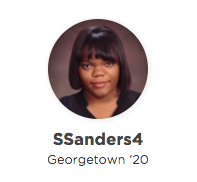 Student advice from SSanders4
Georgetown University Class of 2020
"The school has a strong community for minority students. The location gives unprecedented access to political and government internships and jobs. Georgetown also has a strong support base for all students regardless of race, gender, sexuality, and/or religion. There is a support network for every single student."
Unlock her successful Georgetown profile to see what else she has to say about her school!
5. Is It Too Preppy?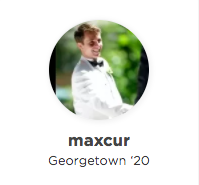 Student advice from Maxcur
Georgetown University Class of 2020
"Georgetown is right in DC in a beautiful neighborhood. The school is filled with outgoing and very nice individuals. Everyone can find their niche here. Some people may say that Georgetown is a very preppy school, but you do not need to be a "preppy" kid to find people who you get along with and can have a good time with. The opportunities here are fantastic for finding work after school. Students from all the schools here go into banking, finance, and government. By going here, you really do expand your opportunities."
Unlock his full application advice to see his full application story!
Want more student advice? Use our Advice Search feature to get your application questions answered!
For further access, our premium plans offer different levels of profile access and data insights that can help you get into your dream school. Unlock any of our packages or search our undergraduate profile database to find specific profiles that can help you make an informed choice about where to apply! We have 60,000+ successful college application files uploaded by college students. See how they got in, and how you can too!