Let's continue this 8 part series to find the best Ivy League college fit for you! Up next is Columbia University.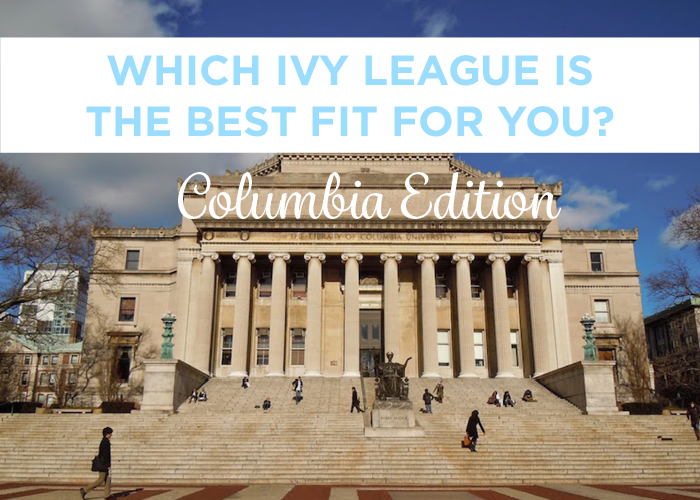 Columbia University
Quick Cheat Sheet
Size: 2,100 per class. This means you won't know, or even recognize everyone in your graduating class, but you'll get to know the people in your dorm and department really well.
Cost: Tuition: $55,060. Room, Board & Expenses: $16,529. Most expensive of the Ivies in Tuition, 2nd cheapest in Room, Board & Expenses.
Financial Aid: $140m offered in financial aid grants. Follows the need-based and need-blind application process. International students are evaluated in need-aware basis.
Location: You're in New York City. There's so much culture, cuisines, music, neighborhoods to explore, you'll never be bored. The only concern is you may get too distracted.
Campus: You're on the streets of New York. Completely walkable.
Weather: You better love the 4 seasons, because you'll get them all. Be prepared for canceled flights when traveling home for winter break.
Notable Academic Programs: Well-known for their strict core curriculum. Best undergraduate program is engineering.
Student Life: Again, it's centered around the activities that NYC offers. There is also a presence of greek life and house parties. Check out these 10 fun facts to learn more about Columbia's history and campus culture.

Overview:
Located in upper Manhattan of New York City, Columbia University is one of the most popular school to apply to. Apart from Harvard, it is the only other Ivy League university located in a major city. It is well known for its rigorous and demanding core curriculum that's designed to give students a well-rounded education and develop high-level thinking and analysis.
Columbia, too, has strong academic programs all around. This is because Columbia's Law School, Business School, Medical School, and Journalism Graduate Schools all have a strong faculty and curriculum. The Fu Foundation School of Engineering is probably their strongest department, but Columbia's Economic and Political Science have consistently been considered the best in the US.
Living in New York City has a lot of perks. You have internship opportunities in a range of different fields, a lot of cultural areas and museums to visit, and can even explore your creative side. However, this can also pose as a huge distraction for college students.
Do you have any other questions about Columbia? Comment below and let us know! We'll answer any questions you may have and update the post with suggestions. If you are set on applying to Columbia University, make sure to search through profiles of students accepted to see essays, stats, and advice. See how they got in, and how you can too!
Stay tuned for more! Up next is Brown University!