Still haven't found something that might be a good fit for you? Next up in this series is Dartmouth College!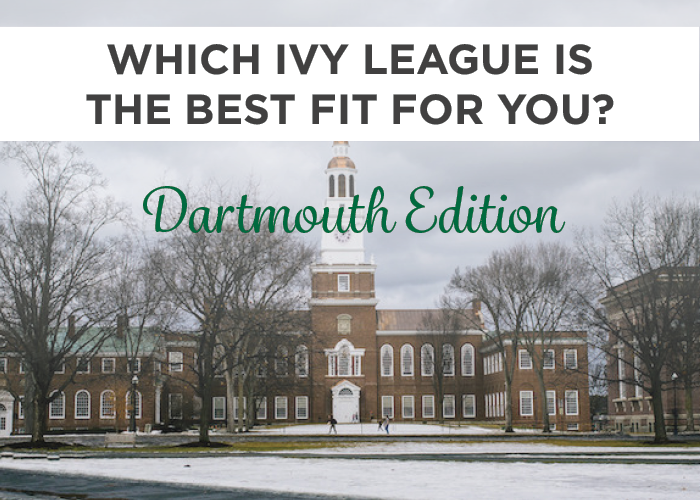 Dartmouth College
Quick Cheat Sheet
Size: You're more likely to know majority of your class. Smallest of all Ivy Leagues schools.
Cost: Tuition $49,988. Room, Board & Expenses: $19,881. Third most expensive Tuition of all the Ivies and most expensive in room & board.
Financial Aid: Eligibility threshold is highest of the Ivy Leagues. Follows the need-based and need-blind application process. International students are evaluated in need-aware basis.
Location: Rural, college town.
Weather: Cold. Snow. Long winters.
Academic Programs: Languages, Engineering, Economics
Student Life: Most prominent Greek Life presence of the Ivy League schools.

Overview
Located in a small town, Dartmouth College has the most rural location out of all the Ivy Leagues. If you're looking for a more college campus oriented experience or like nature, then Dartmouth could be your best fit.
Though Dartmouth College has a higher family income threshold for aid (at $100,000 compared to the $65,000 at other Ivy League schools), they still provide financial aid support to about half of their current students. They are also ranked no. 1 in "Best Value School", which means Dartmouth has the highest return on investment of the Ivy League schools.
Dartmouth students are limited to the social events that are offered on campus. Because of that, Greek Life is pretty prominent on Dartmouth's campus. But that's not all. Dartmouth is one of 2 colleges in the country that own a ski slope. So, if you are a big skier, this is certainly a perk you'll get to enjoy!
Do you have any other questions about Dartmouth? Comment below and let us know! We'll answer any questions you may have and update the post with suggestions. If you are set on applying to Dartmouth College, make sure to search through profiles of students accepted to see essays, stats, and advice. See how they got in, and how you can too!
Stay tuned for more! Up next is Yale University!