Princeton University is the most ivy of all the Ivy League Universities, because it literally has ivy covering most of the buildings on campus.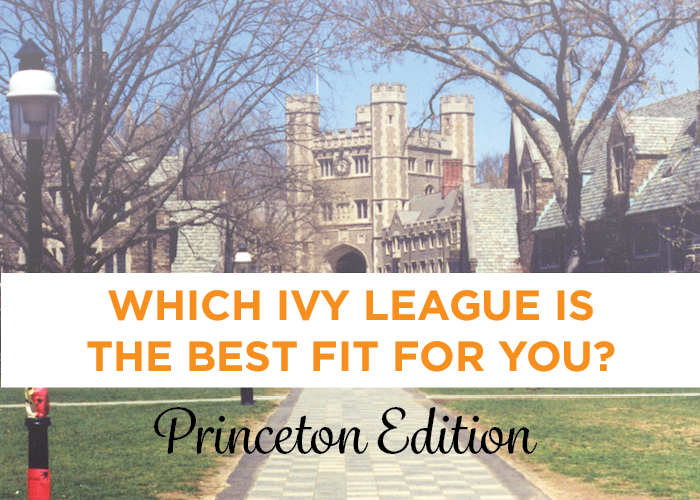 Princeton University
Quick Cheat Sheet
Size: You'll recognize most people, but you won't know everyone.
Cost: Tuition $47,500 + Housing and Other Fees: $19,145. 2nd most affordable Ivy League
Financial Aid: 84% of recent seniors graduated debt free. Follows the need-based and need-blind application process. International students are evaluated the same as Americans.
Location: Suburban neighborhood
Campus: Sizable. 20 minute walk across campus.
Weather: You'll get all 4 seasons, but they are not as harsh as some of the other Ivy League schools.
Academic Programs: Public Policy, Computer Science, Economics
Student Life: Eating Clubs on "The Street"
Overview
Located in Princeton, New Jersey, Princeton University is the only Ivy League that's truly a suburban college. If that's what you're looking for, then please read on.
Princeton offers a well-rounded education with strong programs in both Humanities and in Science. It's computer engineering program is attractive to many prospective students and that's only more appealing when compounded with Princeton's strong support for entrepreneurial students. If that's not what you're interested, Princeton has 6 engineering departments you can choose from.
Similarly, Princeton's Arts & Humanities is well resourced with facilities and faculty. Their economics, history and sociology undergraduate programs are one of the best in the country. Just like Cornell and Harvard, Princeton has a School of Architecture which allows students to to major in architecture in their undergraduate studies.
While Princeton's suburban neighborhood may not match Columbia's vibrant city on paper, it does not lose out on the social scene and opportunities it offers its student body. Have you heard of the Eating Clubs? They are almost akin to fraternities and sororities; they are dining halls and social houses. There are a total of 11 clubs: seven of them require a selective, interviewing process, while the other four choose their members through a lottery system. This is where Princeton's social scene is centered around, and is most commonly referred to as "The Street".
Do you have any other questions about Princeton? Comment below and let us know! We'll answer any questions you may have and update the post with suggestions. If you are set on applying to Princeton University, make sure to search through profiles of students accepted to see essays, stats, and advice. See how they got in, and how you can too!
Stay tuned for more! Up next is University of Pennsylvania!