MIT Class of 2021 decisions have been out for almost 2 weeks now. As you continue to receive results from other universities, here's some advice from current MIT students and why they decided to enroll.
Massachusetts Institute of Technology '20
I was so lucky and got into so many wonderful schools. When I was still deciding, someone at MIT told me that choosing which school to go to is really like choosing which version of yourself you most want to become. And I saw so many paths—at Harvard, I could become a leader, an activist, but I didn't like socializing with an agenda. At Stanford, I could become an entrepreneur, but the business-y side of start-up culture didn't attract me. I received a full-ride from USC, but the school was so big that I got overwhelmed. Ultimately, I chose MIT for its collaborative culture and education to solving problems.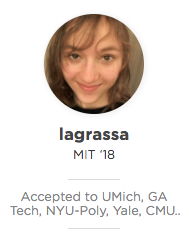 Massachusetts Institute of Technology '18
I visited the University of Michigan and loved some people there. There were some nerds and very enthusiastic engineers that were crazy about their work. There were also people who left class part way and did not care at all about academics, only sports. However, I realized that the aspects I liked about the University of Michigan were a hundred times more prevalent at MIT. I also liked the cooperation between MIT students. Team based projects are the way of the future and MIT does not have competition in the same way I heard about at other schools. MIT students work together.
Massachusetts Institute of Technology '18
Good faculty-to-student ratios, research opportunities, etc. are equally fantastic at all prestigious colleges. Ultimately, you should find somewhere you feel you truly belong: the physical environment, location, and most importantly, the people. Meet other prefrosh, meet older students—make sure you can find friends and fit in well with the culture!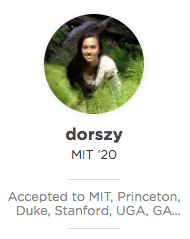 Massachusetts Institute of Technology '
20
MIT's engineering and science programs are consistently ranked number one; MIT had so much more to offer me. While Princeton might be ranked as number one overall, I noticed, by talking to various upperclassmen, that their coursework and other lab work was very theoretical… while MIT really taught students how to use and apply all the knowledge the professors taught. While Princeton still is a great university, MIT remains miles ahead in engineering. That's why I chose MIT - because I knew it wouldn't hold me back, that students there weren't pretentious, and that their students come out soaring with flying colors.
Massachusetts Institute of Technology '
17
Because I liked how excited everyone is on campus. Everyone does everything with a great sense of enthusiasm, and after visiting campus for the preview weekend and seeing how excited everyone was to get a new set of freshmen on campus, I couldn't pass it up. In the end, what sold me was the people on campus, not the great learning opportunities I have here.
Don't let your application essays and materials go to waste. Turn your success into insights for future applicants by creating a College Admit profile. Plus, you get to earn some extra money!