Choosing Your Common App Essay Topic
Many applicants have a core motivation that drives them and an origin story for how they came to be the person they are today. Depending on the story, certain essay prompts may be a better fit than others. Common App Prompt #4, which asks applicants to discuss a question that's central to who they are, is one prompt that can highlight an applicant's "origin story."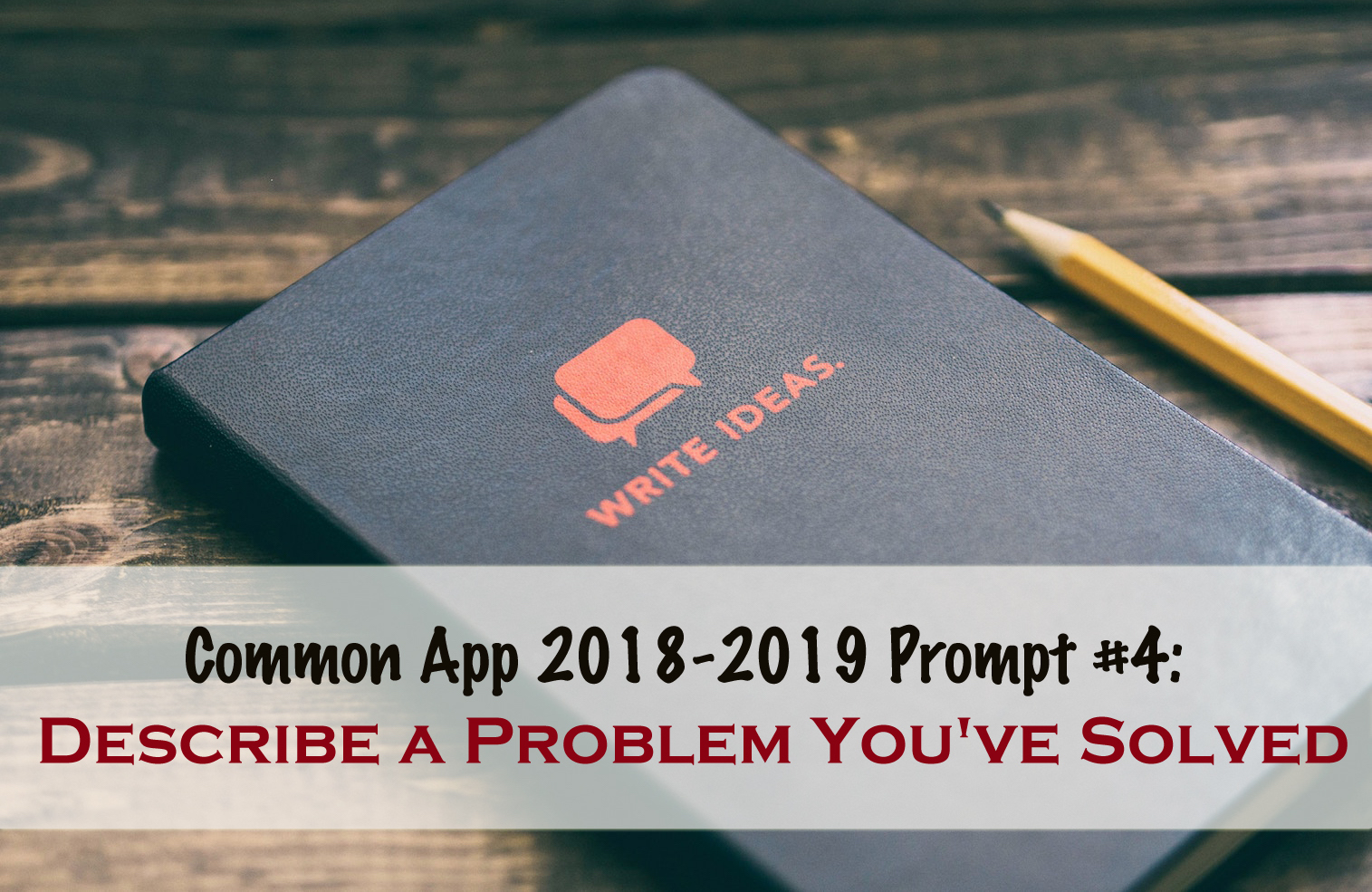 Common App Prompt #4
Describe a problem you've solved or a problem you'd like to solve. It can be an intellectual challenge, a research query, an ethical dilemma - anything that is of personal importance, no matter the scale. Explain its significance to you and what steps you took or could be taken to identify a solution.
Analyzing the Essay Prompt: Why Colleges Ask
Whatever you choose is a telling aspect of your college candidacy. The problem that you are most committed to solving speaks volumes about what you value, what you're interested in studying, and whether you are potentially a good fit for the school.
For schools that have specific academic focuses or are big on social impact, how you respond to this essay prompt demonstrates the type of intellectual or social issues you're most passionate about.
In addition, your proposed solution for the problem you identify also provides a window into your problem-solving and critical thinking skills.
Common "Solving a Problem" Essay Topics
Expounding on an interest central to candidacy

(A) Academic Passion—It can either be a subject you've always loved, or the desire to advance a field in which you're underrepresented

"When I entered high school, I was dismayed to discover that my school was devoid of any course that resembled an advanced computer class. Computers and technology education were covered under Business Applications, which addressed topics I had mastered by third grade. Furthermore, I still could not find anyone at school who shared my passion for technology. That was when I decided it was time my school left behind its primitive views and realized how important technology is in today's society: I decided to create a computer club."

(B) Interdisciplinary Interest—Marrying two seemingly separate subjects to identify a solve a problem in an innovative way, such as integrating music and medicine through music therapy.

"This project inspired me to learn more about the science behind the power of music. While researching, I realized that I had found the key, the key to communicating with my grandpa. Music could convey messages that words could not. I am not suggesting we all rush to the nearest bedside to perform a Chopin concerto. Instead, a simpler, more accessible alternative…"

(C) Social Issue - Rectifying a social injustice. Pursuing a cause you care about.

"I wish I could say I wasn't bullied or harassed, but I was. I was also made to feel lesser in the classroom… While none of my teachers' intents came from malice, the effect was harmful. I realized I needed to re-humanize the dehumanized LGBT community. I looked online and contacted GLSEN. The Gay Lesbian Straight Education Network. GLSEN gave me my voice."

Discovering an unexpected interest

"The word "environmentalist" always evoked images of wilderness adventurers and white hippie chicks, and certainly not me, so it never occurred to me to get involved in sustainability. Without realizing it, I had separated myself from the possibility of environmental work… It only took one question to knock down this barrier."

Overcoming hardship with a different mindset

"Some could argue that this tree was a symbol of our tragedy, merely a reminder of the home and belongings that we couldn't save while it remained unscathed. Most would have no trouble cutting it down and disposing of it. Yet, when the tree fell, my family chose to use it. The great strength of my family comes from their ability to derive beauty from hardship."
Get access to profiles in our database! Our premium plans offer different levels of profile access and data insights that can help you with your application process. Unlock any of our packages or search our undergraduate profile database to find specific profiles that can help you make an informed choice about where to apply!