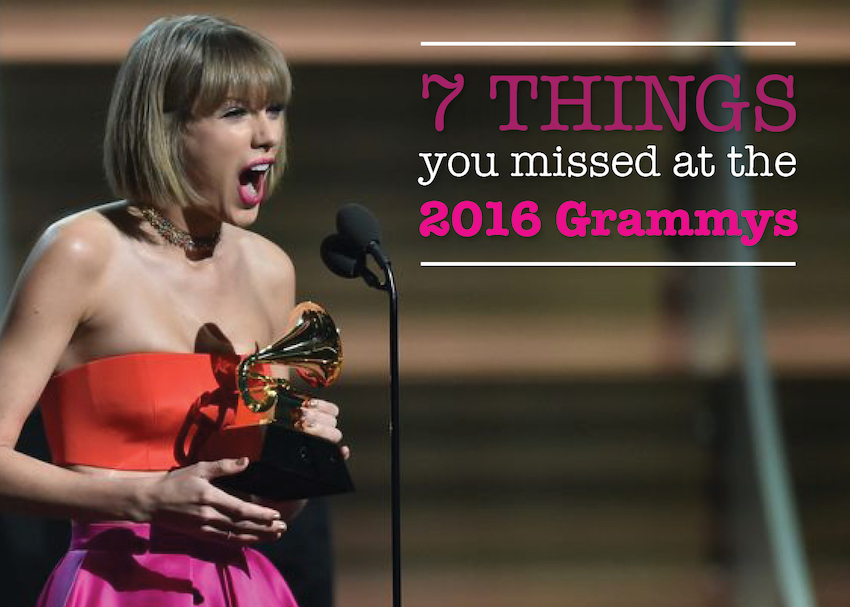 The 2016 Grammys recapped what turned out to be a big year in the music industry. Between Adele, Kendrick Lamar, and Taylor Swift, some memorable records were released. Weren't able to watch last night's tribute to the current and former music greats? After our successful roundup of Super Bowl 50, we figured we'd help you catch up on the Grammys:
1. Kendrick Lamar's performance was powerful. He came out and made a huge statement on stage, performing some of his biggest hits from his most recent album To Pimp a Butterfly. The performance was energetic and extremely meaningful, which certainly echoes his music.
2. Tribute to Glenn Frey from The Eagles. The audience was emotional as The Eagles honored their former frontman, playing one of their oldest hits. Though Frey's face was only on screen at the end of the performance, it was still a great tribute to an important figure in rock.
3. Lady Gaga embodied David Bowie. One of music's greatest icons passed away recently, and Lady Gaga took the stage to honor him. But her performance captured more than just the music or the personality - it showed how much Bowie meant to the industry. The emotion felt from the stage and the crowd were evident even through the television screen.
4. Taylor Swift makes her voice heard. After Kanye West and Taylor Swift had yet another spat recently when Kanye implied that he helped shape Taylor Swift's career, she took the stage to perform her biggest hits from the past year. Upon winning her award for Album of the Year, she made an impassioned statement about her hard work and determination, and how only she's shaped her career. Taylor, we're gonna let you finish, but… you're right.
5. Hamilton shined in the spotlight. This year's biggest and most highly acclaimed theater production played a big part in this year's Grammys, as it not only put on a huge performance, but took home the award for Best Theater Album.
6. Adele is human? Oddly (and very out of character), Adele was flat. Her performance was less than stellar, but hey, she got In-N-Out afterwards. So she kinda came out on top, right?
7. Performance cancellations aren't fun. Multiple highly anticipated performances were skipped or cancelled, including the likes of Rihanna and Lauren Hill. It's a shame, since the Grammys are more than just an awards show - it's a showcase of the fantastic artists. There's always 2017.