The Ivy League is a NCAA Division I collegiate athletic conference, but its schools are far better known as the most selective and prestigious universities in the U.S. Many college applicants apply to at least one. Which one should it be for you?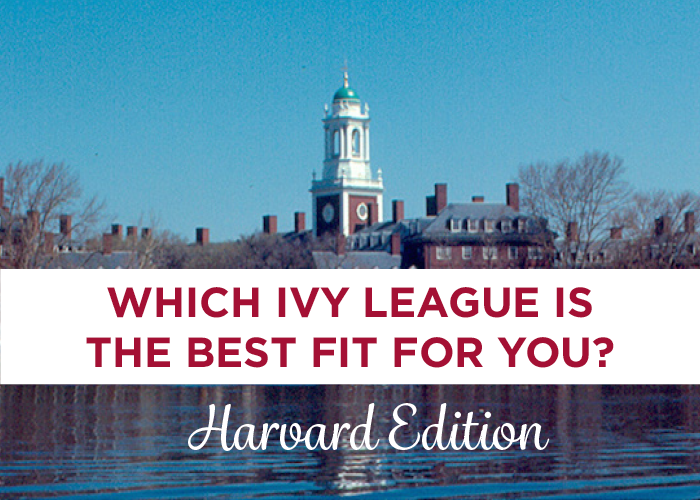 Every year thousands of college students hope to receive good news from at least one of these schools, and occasionally, there'll even be rare students who get accepted to all 8! While that's impressive, should that be your application strategy?
Finding your college best fit will not only help you pursue your interests and passion, it can also increase your chances of admissions. Why? Because your interests and the school's mission align. So, of these 8 higher education institutions, some share a lot of similarities, while others are drastically different. So, which one is the Ivy League for you? Let's find out.
Harvard
University
Quick Cheat Sheet
Size: 1,600 per Class. In other words, you'll recognize most people, but you won't know everyone.
Cost: Tuition: $43,280. Room, Board & Expenses: $19,745. Cheapest of the Ivies in Tuition, 2nd most expensive in Room, Board & Expenses.
Financial Aid: 70% of students receive some sort of aid, so you have a high chance of getting the support you need! International students are evaluated the same way as American students.
Location: You have the campus to help you get settled in, but then you have the whole city of Boston to explore
Campus: Not too large. Walkable.
Weather: Buy your winter coats, because it's going to be a cold 4 years.
Notable Academic Programs: All departments are strong. Applied mathematics, economics and government majors are slightly more popular than others.
Student Life: Centered around residential houses, and mysterious Final Clubs. Check out these 10 fun facts to learn more about Harvard's history and campus culture.
College Sports: Every year, one Ivy League university will make it to the NCAA basketball tournament. But, that doesn't matter, the only thing matters is the Harvard Yale football game.

Overview
Located in Cambridge, MA, Harvard University an urban, medium-sized private university that offers its student body with rigorous academics and a range of research and internship opportunities. With that said, what programs is Harvard really known for? Honestly, Harvard has such a well-rounded curriculum and well-resourced departments that their most popular majors are distributed across different fields: social sciences, mathematics, and history.
That being said, Harvard's education stands out because as a mid-sized university, they still have a 7:1 student to teacher ratio. In fact, 73% of classes at Harvard have fewer than 20 students. If you strive in a smaller learning environment, make note of this!
Harvard also has the largest endowment of any school in the world. This is why Harvard also provides one of the best financial aid support to their students. It is completely need-blind and need-based; international and domestic students receive aid equally. Eligibility for aid is dependent on your family's' annual income. For example, students whose family annual income is less than $65,000, they are not expected to contribute. This makes Harvard a very desirable school for many high-achieving all over the world, across all income levels.
All freshman year students live together on the Yards, and are later placed into one of the 12 undergraduate houses, where they spend the next 3 years. Yale is the only other Ivy League university with the same residential housing system. The aim is to foster social and intellectual connections that extend beyond your time as an undergraduate student. Harvard also has "final clubs" which are similar to fraternities and sororities, but are no longer recognized by the university. There's always something going on campus, but don't forget you still have the city of Boston to explore!
Do you have any other questions about Harvard? Comment below and let us know! We'll answer any questions you may have and update the post with suggestions. If you are set on applying to Harvard University, make sure to search through profiles of students accepted to see essays, stats, and advice. See how they got in, and how you can too!
Stay tuned for more! Up next is Columbia University!